Free US Shipping on Orders Over $30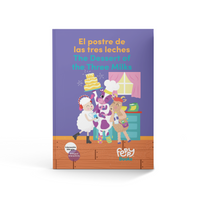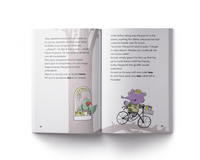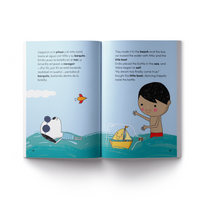 The Feppy Experience Book Collection: Set of 6 Bilingual English Spanish Books
Regular Price

$86.50

Sale Price

$86.50

Regular Price

$90.00

Unit Price

per
Incorporating bilingual storytime into your child's routine can yield numerous long-term advantages! Nurture your child's creativity and cultivate a habit of exploring the world through English and Spanish storybooks for kids. This collection is great for kids at any beginner through advanced level.

Each Feppy Book is an original story filled with exciting adventures, colorful illustrations, strong values and morals, and a vocabulary list to solidify learning!

This collection includes 12 original bilingual English Spanish hardcover storybooks:

1. A Fantastic Family! "Una familia fantastica" - reveals the secrets and hidden messages in the book title: a family "is" fantastic. When people work together, they achieve and accomplish much more (and it's way more fun!) than when we face different difficult situations on our own. The wonderful thing about this extremely fun story is that no matter what we do or the mistakes we make, the family bond will always be strong. Hence, we will each be strong and we will come out on top. We don't have to be acrobats, escape artists, or master of ceremonies, we just need to be together as a family for adventures to be fantastic.

2.  Pablitos's Big Dreams "Pablito sueña en grande" Dream! Dream, create, grow and never stop dreaming! - As we grow up, we slowly start putting aside our imagination and Pablito reminds us that imagining, dreaming, creating and having fun are essential parts of our lives. Pablito, with his wide and pure innocence, also shows us that unity is strength. Wow, how clever this Pablito is! Do not forget: Dream. Dream, create grow and never stop dreaming!

3. Karate Grandma! "¡La Abuela Karateka!" - Giving up? Never an option! Age is not a limitation when the heart is young and adventurous. The "Karate Grandma" is not like the majority, but the majority can become like her. It's a matter of trying, experimenting, and failing and never stopping when it comes to finding that thing that makes us happy, whether that's a space or activity (or even a dog or person). Some people find tranquility through hiking, swimming, or yoga, but for this grandmother and her granddaughter, karate is the sport that brings personal satisfaction and, much more importantly, the activity that unites them! What about you? Do you already know what your next adventure is and who you want to share it with? A-Y-A!

4.  Yellow, the Happy Little Boat "Amarillo, el barquito feliz" - The power of friendship, the importance of freedom, the wonder of discovery, and much more show up in this story full of symbolisms that open the door for dialogues with little ones. Yellow is a little boat that lives inside a bottle in Emilio's room. Yellow had never seen the sea, until one day he encounters waves and sails so far off into the distance that he loses sight of his family. Emilio and his dog Milo, who also knows Yellow, follow his trail until they find him. While this trio passes through nautical places on their adventures, readers learn bilingual vocabulary about the sea.

5. Juan The Baker "Juan el pastelero" - Juan, an elephant full of goodwill and with many good friends, is a great chef —but he has a terrible memory. He doesn't know how to say no, so his days start early, but no one knows how they will end. Juan has baked 10 carrot cakes for his good friend the giraffe, who is slated to host a birthday party. Read the story to find out where all the cakes end up. Between numbers, additions, and subtractions, Juan the baker shows us the nobility of generosity, and that in the end, every problem has a solution.

6. The Dessert of the Three Milks "El Postre de las tres leches" - This is the sweetest and most fun story. It could only be Feppy Books, the team that recreated the origin story of one of the most delicious desserts that we have all enjoyed. In this splurge of imagination, A dessert of three milks is conceived during a competition in which three milk-making friends share their elixir to create something never seen before — a dessert made of cow, goat, and sheep milk. The friends partake in many adventures to create their delicious treat, while our young readers, captivated by the story, learn words in English and Spanish about the foods they most love.

Free Video: Each bilingual book also includes bonus access to its corresponding audio video books for an added element of fun and interactivity. Try it today, kids love bilingual storytime!


Please note that includes The Perseverance Collection (Set of 3 Books) and The Fantastic Collection (Set of 3 Books).
SKU:

FEPPY-6BOOKS-EXPERIENCES

In Stock:

99

Weight:

3.8 lb

Product Type: Unknown Type
Brand: Feppy
Collection: Shop Bilingual Books
Enter the content to use inside the accordion panel selected.