Free US Shipping on Orders Over $30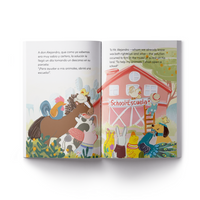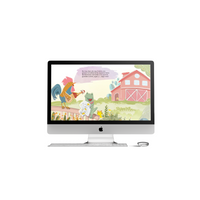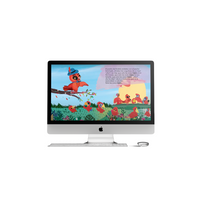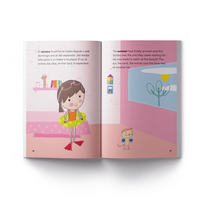 Colección de Libros "Trabajo en Equipo" - 3 Libros Bilingües Inglés/Español
Regular Price

$42.00

Sale Price

$42.00

Regular Price

$45.00

Unit Price

per
¡La simple costumbre de leer cuentos bilingües puede tener muchísimos beneficios a largo plazo! Desata la imaginación de tu hijo y adquiere el hábito de experimentar el mundo en español e inglés.
¡Cada Feppy libro es un cuento original lleno de emocionantes aventuras, ilustraciones coloridas, valores, enseñanzas, y una lista de vocabulario para reforzar el aprendizaje!
Este paquete incluye 3 libros de cuentos bilingües:
Rulieta, Tadeo and their Band of Many Colors "Rulieta y Tadeo y su banda de colores" - El clásico romance de Romeo y Julieta siempre se ha contado desde las diferencias sociales y las rencillas de antaño. Rulieta y Tadeo y su banda de colores nos presenta esta historia desde la diversidad ¡y el rock & roll! En el más hermoso escenario, en medio de un bosque tropical revivimos la pasión de estos personajes, pero con un giro: Rulieta y Tadeo aman la música. En este texto reina la diversidad, la aceptación, el respeto y el amor hacia las artes. 
Hooray for Rain...With or Without an Umbrella "¡Que viva la lluvia...con o sin paraguas! - Este libro desarrolla un tema muy importante para el mundo moderno y el crecimiento sano: la resiliencia. En un hogar compuesto por padre e hija, los planes pueden cambiar, pero no la capacidad de gozar de cada momento. Abi se prepara para un día de playa, pero no contaba con los caprichos del clima, su padre, un hombre sabio y amoroso, hace que todo funcione y que lo que hay, se viva con alegría. Esta hermosa historia se pasea por un gran vocabulario sobre las estaciones y el clima que los lectores aprenderán en dos idiomas. 
A Very Particular School "Una escuela muy particular" - Es una de esas historias alocadas que nos hacen reír con el rostro y también con el corazón. Junto a esa sonrisa, calladitos (o a voces) nos decimos: "¡Sí, Novelia, Potranco, Lorenzo y Fernando, ¡sean quienes quieran ser!". Una escuela muy particular es un libro para niños de 39 páginas en inglés y español que trata sobre el respeto y la aceptación.
Cada libro contiene acceso exclusivo gratuito a nuestros audiolibros con vídeo, que sirven de acompañamiento para que los niños puedan escuchar y ver la historia animada en ambos idiomas mientras aprenden. También hay una lista de vocabulario al final y una canción con letras bilingües.
USA - $5 Flat rate shipping for orders up to $29.99. Free Shipping for orders $30 and up.
CANADA - $7 Flat rate shipping.

The box will ship out within 2 business days from our warehouse in Florida and arrive in 3-10 business days.
What makes Feppy Products Unique?
Bilingual Is Best
Research supports that children who are bilingual have stronger social skills, greater career opportunities, and stronger cognitive abilities.
Play is Paramount
Learning Spanish doesn't have to be systematic, flash cards. At Feppy, we believe play makes kids want to learn, and that's what makes it stick.
Whole Brain Learning
When a child sees it, hears it, holds it, and plays with it, they will better understand it and remember it. Focusing on learning moments that engage the whole brain works.
Quality Matters
We believe that creating beautiful high quality products means they'll find a permanent place in your environment, and that they'll appeal to kids over and over again.
Inclusive Content
Feppy has given me some peace of mind in my ever-persistent effort to ensure my first generation American daughter is exposed to her parents' roots through language and inclusive content. 
Naomi H.
So Much Fun!
Finally, I found bilingual products that my kids enjoy. They have so much fun with the activities that they don't realize how much they learn in Spanish. As a family living in the USA, it is very important that our kids speak both English and Spanish.
Sofia T.
I'm Loving Feppy Box!
Feppy Box is happiness, !diversion!, learning, culture, language, literature, and family connections in a box! It's everything that it advertises and more, much more.
Kianny A.
Frequently Asked Questions
There are so many benefits of bilingual literacy! From improved cognitive development to vocabulary, reading to your child in two languages is a great way to introduce a second language.
Each of our books is illustrated for visual storytelling, and comes with an exclusive access to a video for pronunciation. Designed for kids ages 3-8.
Shop our bilingual books, and experience the magic of bilingual storytime today.

Bilingual games are fun for the whole family. At Feppy, we've transformed and reimagined classic games to create an easy and fun way to make play-time a language learning activity.
After all, learning a language is founded in connection, and these games do just that: connect families for hands on fun!
Shop our Bilingual Games today.
The recommended age range for our products is between 3 to 8 years old. 

Families of all ages enjoy Feppy products - especially the games.
If you're looking for something for a particular child, you can browse our collections by age to help find age-appropriate themes.
Feppy Boxes are award-winning bilingual Spanish & English toy sets for kids. Designed to encourage hands-on and play-based learning for kids, they help families create a complete Spanish-English immersion experience at home.
Each Feppy box includes a bilingual book, a hands-on game, activities and vocabulary stickers, as well as a companion read-along video audiobook and a parent guide. These multisensory resources can be played with for hours in open-ended ways, and stimulate whole-brain learning through reinforcement and repetition.
Feppy Box is sure to make your kids' bilingual learning fun!

We offer Feppy Boxes in a number of ways:
Monthly subscriptions, our most popular product, where a new themed box is delivered each month. Cancel anytime and Free Shipping included.

Single Feppy Boxes are also available for purchase and we also have non-renewing gift subscriptions which deliver monthly boxes to the gift recipient for 3, 6, or 12 months.

Absolutely!
Every Feppy book, game or Feppy Box make great gifts.
If you're not sure what to choose, or you need instant delivery, you can also purchase a gift card.